The Early Arisakas




A Study of The Japanese Type 30 Rifles & Carbines, Naval Type 35 Rifles, Substitute Type 02/45 Rifles and Their Variations.


BANZAI special project #9
By Francis C. Allan, Doss H. White, Dr. Stanley Zielinski
Edited by Joseph P. Koss Jr.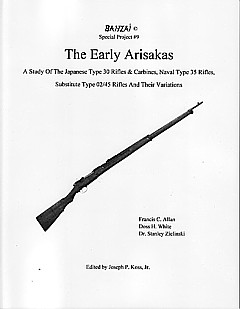 THIS BOOK IS OUT OF PRINT


This book covers the design, development, production, and known history, of these 'forgotten' rifles. The Early Arisakas were the first Japanese rifles designed for use with smokeless powder and marked one of the first steps in Japan's march to super-power status. This book contains pictures and tables of the rifles, variations, and their markings, along with recorded features and serial numbers of surviving specimens.

Most serious collectors consider having 1 of each model or type a complete representation of these rifles, but after reading the book, I'm not so sure that just one of each is enough. The book identifies original production stamps, inspection marks, modifications and variations , along with those that were added or modified later by the Japanese and the other countries where they saw service. I didn't realize the extent of service use by the European countries of these early Arisakas.

In all this is a very in depth look at these early Veterans of Japanese Military service. I highly recommend this book for your reference library.
_________________
Subscribe to

BANZAI

!
Fill out a Japanese Rifle Datasheet.
I didn't pay to much for that old Arisaka, I just bought it a little bit too soon!